The McDowell Boys
This page is dedicated to ALL of our Burgin ancestors who made so many sacrifices and fought so bravely during the 'carnage' of The War for Southern Independence.
Alney Burgin
(#1521A)
John McDowell Burgin
(#1521A1)
George Whitson Burgin
(#1521A2)
John Albert Burgin
(#152125)
Benjamin M Burgin
(#152146)
Rufus Bradshaw Burgin
(#152149)
William S Burgin
(#152316)
George Patton Burgin
(#152613)
Ben Logan Burgin
(#152633)
John Mann Burgin
(#15265)
Merritt Burgin
(#15267)
Joseph Benjamin Burgin
(#15291)
Charles Hardy Burgin
(#15292)
John Burgin
(#156215)
Thomas Albartus Burgin
(#15624)
John Davis Burgin
(#156242)
Daniel Augustus Burgin
(#156243)
Jesse David W Burgin
(#1563B)
James Lee Burgin
(#15646)
Robert Burgin
(#15647)
John D Burgin
(#15648)
Merritt Burgin
(#15649)
Harriet Burgin's Husband
(Samuel M Young)
Elizabeth Burgin's Husband
(Elisha Neal)
Mary E Burgin's Husband
(John Carr)

Louise Burgin's Husband
(John Davidson)
Rachael Burgin's Son
(Wm. B. H. Whitaker)
Rachael Burgin's Son
(James L Whitaker)
Rachael Burgin's Son
(Joshua Burgin Whitaker)
Margaret Burgin's Husband
(John Maderson Jordan)
Ann Burgin's Husband
(Thomas Young Lytle)
Lucy Burgin's Husband
(Hamilton Adley Osborne)
Deliah Burgin's Husband
(Solomon Black)
"Their fidelity and devoted sacrifice shall be celebrated in song and story, and shall be borne in loving memory while time shall last."
- Graham Daves -
---
During the War for Southern Independence, Captain Alney Burgin was in command of Company K, 22nd Regt, North Carolina Infantry. His lieutenants were his son, John McDowell Burgin and two of his first cousins, Charles Hardy Burgin and Joseph Benjamin Burgin. The body of the company was mostly comprised of other Burgin boys and allied familes; in-laws, cousins, etc; And in as much as they were all from McDowell County, they were better known as "The McDowell Boys."
One officer described their performance at Seven Pines thusly:
"In all my readings of veterans, and of coolness under fire, I have never conceived of anything surpassing the coolness of our men in this fight."
Captain Burgin would lose two sons during the ensuing battles. His first-born, Lt. John McDowell Burgin, died from wounds received at Gettysburg and his second-born, Private George Whitson Burgin was killed in the Battle of Gains Mill or at Mechanicsville, Virginia, June 26th or June 27th 1862.
Burgin's other two lieutenants were also casualties. Charles Hardy Burgin was wounded at Shepherdstown, Virginia and died of disease & fever at Fredricksburg, Virginia. Joseph Benjamin Burgin was captured by Federal Troops near Chancellorsville (see footnote).
---
The Twenty-second Regiment of North Carolina Troops was organized in camp near Raleigh in July, 1861. Originally composed of twelve companies, two of them, C and D, were quickly transferred to other commands. The original lettering for Companies A, B, E, F, G, H, I, K, L and M would remained status quo.
Company A, of Caldwell County, Captain W. F. Jones, was called the "Caldwell Rough and Ready Boys";

Company B, of McDowell County, Captain Jas. M. Neal, the "McDowell Rifles";

Company C, of Surry County, Captain Reaves, the "Surry Regulators"

Company D, of Ashe County, Captain Cox, the "Jefferson Davis Mountain Rifles."

Company E, of Guilford County, Captain Columbus C. Cole, the "Guilford Men"';

Company F, of Alleghany County, Captain Jesse F. Reeves, the "Alleghany True Blues";

Company G, of Caswell County, Captain Edward M. Scott, the "Caswell Rifles";

Company H, of Stokes County, Captain Hamilton Scales, the "Stokes Boys";

Company I of Randolph County, Captain Shubal G. Worth, the "Davis Guards";

Company K, of McDowell County, Captain Alney Burgin, the "McDowell Boys";

Company L, of Randolph County, Captain Robert H. Gray, the "Uwharrie Rifles";

Company M, of Randolph County, Captain John M. Odell, the "Randolph Hornets."
The Twenty-second Regiment served throughout the war in the Army of Northern Virginia, and participated actively in every action of consequence in which that army was engaged, except their first battle of Manassas:
Evansport (Dec 9, 1861)
Yorktown Siege (April-May 1862)
Seven Pines (May 31-June 1 1862)
Seven Days Battles (June 25-July 1, 1862)
Beaver Dam Creek (June 26, 1862)
Gaines'Mill (June 27, 1862)
Frayser's Farm (June 30, 1862)
Cedar Mountain (Aug 9, 1862)
2nd Bull Run (Aug 28-30,1862)
Harpers Ferry (Sept 12-15, 1862)
Antietam (not engaged) (Sept 17, 1862)
Shepherdstown Ford (Sept 20, 1862)
Fredericksburg (Dec 13, 1862)
Chancellorsville (May 1-4, 1863)
Gettysburg (July 1-3, 1863)
Falling Waters (July 10, 1863)
Bristoe Campaign (Oct-Nov 1863)
Mine Run Campaign (Nov-Dec 1863)
The Wilderness (May 5-6, 1864)
Spotsylvania Court House (May 8-21, 1864)
North Anna (May 22-26, 1864)
Cold Harbor (June 1-3, 1864)
Petersburg Siege (June 1864-April 1865)
Reams' Station (Aug 25, 1864)
Fort Harrison (Sept 29-30, 1864)
Jones' Farm (Sept 30, 1864)
Hatcher's Run (Feb 5-7, 1865)
Appomattox Court House (April 9, 1865)
The morale and attitudes of the boys in the 22nd were amazing. On November 22, 1862, they marched 180 miles to Fredericksburg, VA, where they arrived on December 2, During this 10-day Winter march many of the men were barefooted, but made merry over it.
Two days later however, they were engaged in a battle with the enemy at Chantilly, or Ox Hill. This one was fought in a terrible thunder storm, in which the artillery of heaven and of earth seemed to strive in rivalry. The heavy losses of this campaign may be best understood by the fact that at this time there were - out of the 12 field officers from the 4 regiments of the brigade, only 3 were left on duty and some of the companies were commanded by corporals.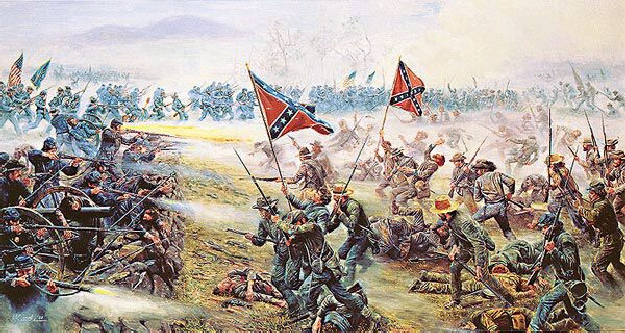 Two years and fourteen battlefields later, the 22nd Regiment was decimated. They had numbered well over 1,000 at the start of the war...at Appomattox just over one hundred of them remained. In Company F only eight privates were left, and in Company H only five. They were disbanded and the few surviving members sought their distant homes, with heavy hearts, indeed, at the failure of the cause they had upheld so long and so bravely.
---
Farewell to the Army of Northern Virginia
by Robert E. Lee
"After four years of arduous service, marked by unsurpassed courage and fortitude, the Army of Northern Virginia has been compelled to yield to overwhelming numbers and resources.
I need not tell the survivors of so many hard-fought battles who have remained steadfast to the last that I have consented to this result from no distrust of them; but feeling that valor and devotion could accomplish nothing that could compensate for the loss that would have attended the continuance of the contest,
I determined to avoid the useless sacrifice of those whose past services have endeared them to their countrymen. By the terms of the agreement, officers and men can return to their homes and remain until exchanged.
You may take with you the satisfaction that proceeds from the consciousness of duty faithfully performed, and I earnestly pray that a merciful God will extend to you his blessing and protection.
With an unceasing admiration of your constancy and devotion to your country, and a grateful remembrance of your kind and generous consideration of myself, I bid you all an affectionate farewell."
---
Graham Daves, former 22nd Regiment Adjutant Wrote:
"No nobler band of men ever offered their all at the behest of the sovereign State to which they owed allegiance, and to the little squad of them, now, who have not yet "crossed over the river to rest under the shade of the trees," Few of them, if any, there were who, when all was over, might not have said in the words of St. Paul: "I have fought a good fight - I have kept the faith.
And to those of the regiment--that larger regiment by far--who sleep their last sleep where at duty's call they laid down their lives, on the plains and hillsides of Virginia and Maryland, from the Appomattox to the Antietam, is gladly rendered the fullest meed of grateful praise.
'Lament them not!
No love can make immortal
That span which we call life
And never heroes passed to heaven's portal
From fields of grander strife.'"

---
Back
Based on a paper written by Adjutant Graham Daves, New Bern NC, April 9, 1901